Babes4U.weblinker.nl
Aanbevolen links:
Jessica Alba: A beautifull, sexy and hot woman. 27 years old and played in many films such as Fantastic-4 and Into the Blue. She was beaten by Megan Fox as sexiest woman in the world, but for me she's still the most beautifull! She's now on the 3rd place of the world woman list.


Elisha Cuthbert, who doesn't know her? After her role in the 24-seasons, she got great audience and worldwide interest. This Canadian babe isn't afraid to show her sexy body! Check the links and wallpapers!


An all round sexy woman who sings, dances and acts. Jennifer Lopez or J.Lo is thé idol for many of America's youngest stars. Myself I find her pretty and sexy! Still she does not beat Fox or Alba.


Jessica Biel, with her striking good looks and wide range of talent, has become one of Hollywood's most sought-out actresses. Her television series acting debut on the WB's #1-rated show, "7th Heaven" (1996), has helped her emerge as a breakout star. A find her a bit...ugly though.

Keira Knightley is a very well known actress. She played main character in the Pirates of the Carribean trilogy from Disney. Her thin body and sexy face makes her popular among many men.
Hayden Panettiere began her acting career at 11 months when she appeared in a commercial for Playskool. Played roles in ''A bugs life'', ''Racing stripes'' and the serie ''Heroes''. A young and beautifull girl who is much promissing for future Hollywood.
Pamela Denise Anderson is a Canadian-born actress, sex symbol, glamour model, producer, TV personality, and author. She holds both American and Canadian citizenship. For a time, she was known as Pamela Anderson Lee after marrying Mötley Crüe drummer, Tommy Lee. She's famous to men because of her big ...

On July 9, 2008, Anderson entered the Australian Big Brother house for a three day visit. Her appearance on this show also marked Anderson's foray into reality television with a series of her own, Pam: Girl on the Loose, which will debut on August 3, 2008 on E! in the United States.
Welcome to Babes4U.weblinker.nl! This site holds the brightest and most exlusive gallery of film, music and other sexy babes. If you have any comments, please leave them in the messenger above here!

This is NOT a porn site!



Some wallpapers of the babe's feautured on this site.
Penelope Cruz: former love and now ''pall'' of Tom Cruise is a dark brown, sexy woman with a taste for good acting. Although she split up with Tom, she defends him in his science ideas as a ''pall''.


Famous by her lips and body, Angelina Jolie is an actress who played in films as Tomb Raider, Beowulf and mr. and ms. Smith. Jolie played many sexy roles and gained worldwide fame by them. She's now one of Hollywood's most sought actresses. See Angelina in action in her newest movie: Wanted!
Silverstone is an actress best known for her action and kissing scenes. Also played in the movie: ''Batman and Robin'' as Batgirl. One of every man's dream women!
Rihanna came to fame in 2005 with the release of her debut album Music of the Sun, which featured her breakthrough single "Pon de Replay". Less than a year later, Rihanna released A Girl Like Me and gave her first number one single, "SOS". In 2007, Rihanna released her third studio album, Good Girl Gone Bad. The album has yielded six hit singles including the number one hits "Umbrella", "Don't Stop the Music" and "Take A Bow". Since the release of her debut album, Rihanna has amassed eleven top 40 hit singles in the U.S. To many men she's one of the worlds most attractive popstars.
Megan Fox: now chosen as the sexiest woman in the world by FHM magazine! She has beaten Jessica Alba for the first place. The public saw her appearance in Transformers as ''very good''.

The top 5 worldwide is as following:

1. Megan Fox
2. Jessica Biel
3. Jessica Alba
4. Elisha Cuthbert
5. Scarlett Johansson
The famous woman from her own sex-tape and arrest: Paris Hilton. Although I don't really like her (see babe-factor), she's popular with many guys. Which means I can't keep her off this site. Enjoy!


One of our ''own'' Dutch babes, Fatima is often seen in the Rabobank advertisings on TV. She's also a star-hockeyplayster for the Dutch team. Many men from Holland think she would do a great job with Playboy though. She's hott, still with some charm...
Johansson's performance as Grace in The Horse Whisperer (1998) earned her a Hollywood Reporter Young Star award. Her blond-brown hair and sexy body conquers the heart of many men, but not mine I must say. And, yes, I know many men disagree, but this is my opinion oké?!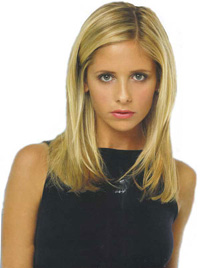 She played in many horror films such as The Grudge and The Return. Also known from the 2 Scooby-Doo movies, Sarah Michelle Gellar is a beautifull, sexy and HOT woman. Believe me, this sexy, blonde babe is DEFINENTLEY what men need!
Best known for her famous role in ''Basic Instinct'' (and its sequel), Stone is popular because of her many sex and kissing scenes. Makes most men veryyy hott!
Totaal 19 rubrieken met 60 links!
Laatste update: 28-08-2009, 10:45:39
Online sinds 09-05-2008 - Vragen? Neem contact op met Cooluh
Alle rechten voorbehouden © 2003 - 2018 Weblinker.nl